Our "Viral talk" format has come to the second episode, which was focused on "Life in the Big Techs".
This time the talk was held by a panel of three Clamda-IM Alumni:
Giulia Voza, Strategic Account Manager @Amazon (former Large Customers Account Manager @Google);
Isabel Pizzi, Account Executive @Amazon (former Team lead & Enterprise Business Development @Salesforce);
Carlo Sicoli, Senior Regional Account Executive @LinkedIn.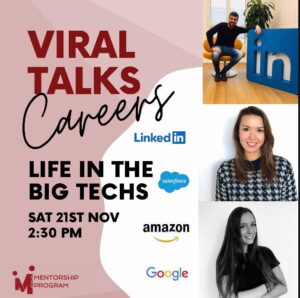 The topic and our guest speakers created a huge interested among the audience and achieved a great success, reaching more than 100 people connected to the call.
They talked about what it means to work in a Big Tech company, sharing with us both the challenges and the benefits of their experiences.
Moreover, they gave insightful advices to all the students regarding how to approach the job market and how to prepare for the application process and interviews.
We hope that the positivity and passion they showed us will be an inspiration for all the participants.
If you would like to follow the next talks, don't forget to sign up to our Microsoft Teams channel where all the Viral Talks are organised.
Please contact us for mor information.
Moreover, if you don't want to miss any news and update about the program, follow our Instagram page ("Clamdaalumni") and LinkedIn page ("Clamda-IM Mentorship Program").
Stay tuned  and in case you want to be our next guest speaker just reach out to us 😉